Looking for a quality bow rack for your UTV? The popularity of "side-by-side" machines such as the Polaris Ranger, Yamaha Rhino, Arctic Cat Prowler and Kawasaki Teryx, to name a few, has risen dramatically in recent years. And with good (and fairly simple) reason. They can carry more hunters and supplies into the bush, and more hunters and meat out of the bush. The accessory market has been fast to address the needs of gun-toting hunters with several manufacturers offering rifle racks of different types. UTV bow racks, on the other hand, have been a rarer commodity, making it difficult for even the most resourceful bowhunters to find one on the market, let alone a good quality UTV bow rack. Enter Bowkaddy and Kaddy Bracket UTV...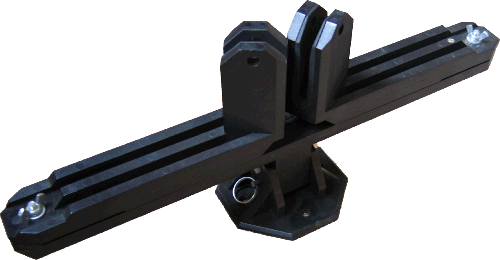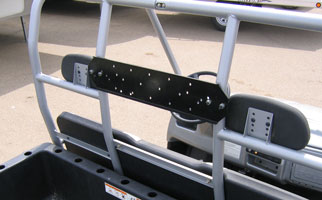 Now combine the most versatile bow rack on the market with this solid state universal bracket to get the best UTV bow rack system you'll find...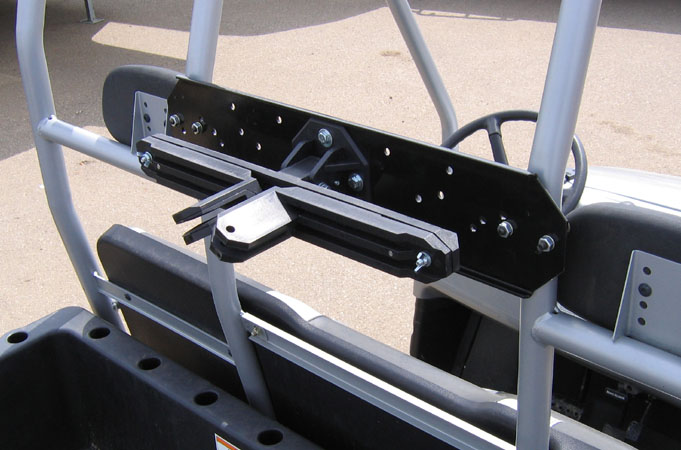 Bowkaddy has a proven track record of security and dependability when it comes to case-less bow transport on ATV's, trucks and boats. Now, with Kaddy Bracket UTV (aka UTV Bracket), bowhunters can enjoy the superior features of the Bowkaddy Bow Rack System on any of the following machines:
Polaris Ranger
Polaris RZR
Yamaha Rhino
Arctic Cat Prowler
Kawasaki Teryx
Midwest Redneck
Motobishi UTV
And Others!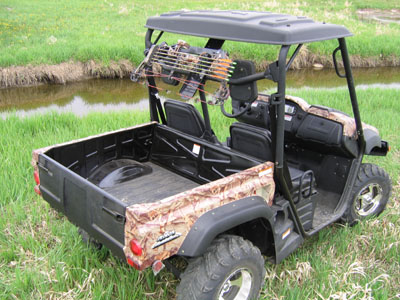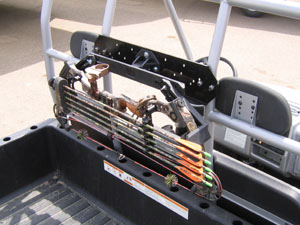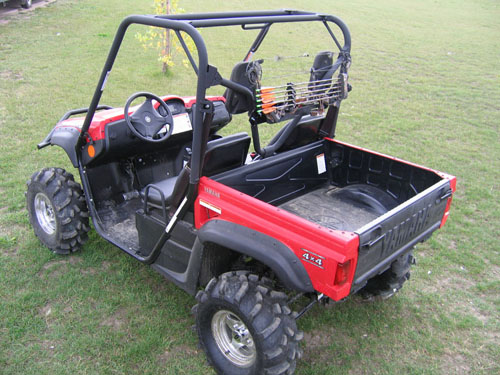 The installation of Kaddy Bracket UTV is extremely simple. The bracket comes with a series of pre-drilled holes that match the dimensions of the rear rollover bars on the most common UTV's - the Rangers, Rhinos, Prowlers, etc. The two U-bolts are rubber-coated to provide shock-absorption, mounting friction and abrasion-protection for the roll bars. Simply position the bracket on the back of the roll bars and fasten the U-bolts with the nuts and washers provided. Once installed, you'll find the 4mm plate extremely rigid and perfectly capable of handling the rigors of the trail. For special mounting instructions for your particular UTV, click here.
Besides its simplicity and durability, what truly sets the Bowkaddy Bow Rack System apart from the competition? Well, it is the only UTV rack system that allows the option of carrying one bow or two. That's right - 2 bows! After all, UTV's are designed for tandem riders; should not a good UTV bow rack be able to carry tandem bows?! Of course.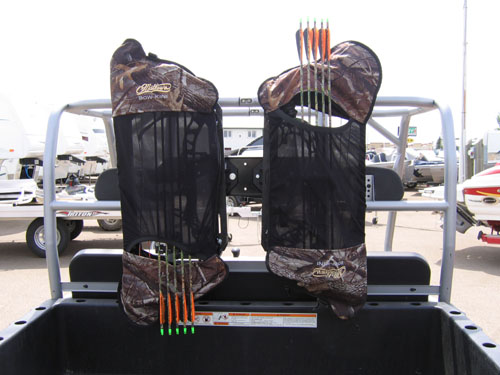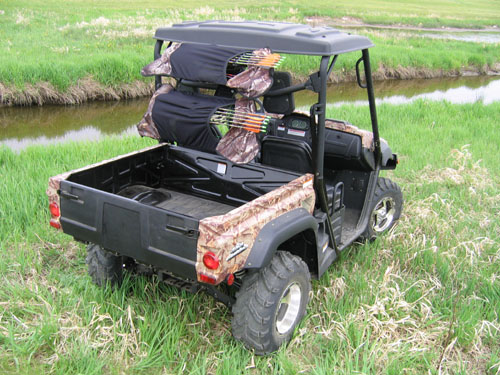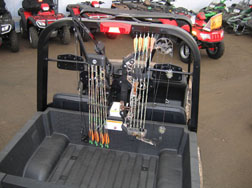 Notice above the use of the Bowkaddy Bow Kovers to maximize protection of the bows during transport. Mud, dust and debris are usually less of a concern with utility vehicles as compared to ATV's, but these soft bow covers offer relatively cheap insurance for your equipment should you find yourself in wet and/or remote regions. It should also be noted that these bow covers are considered a legal alternative to a hard case in most states and provinces that require a bow to be "cased" during transport.
Want more information on the Bowkaddy Bow Rack System for UTV's?
Read the Bowkaddy Bulletin Press Release
Tons of pictures on the Installation Gallery
Looking for a quality bow rack for your Mountain Bike? The UTV Bracket can also be mounted onto the rear forks of most mountain bikes. No longer do you need to hold your bow while trying to ride. No more slinging your bow over your shoulder. Using your bow as a brush guard on your front handlebars? No longer. With some slight modifications to the UTV Bracket, you can create your own custom-fit, ultra-sturdy mountain bike bow rack and cruise down the narrowest of trails with complete confidence and serious stealth.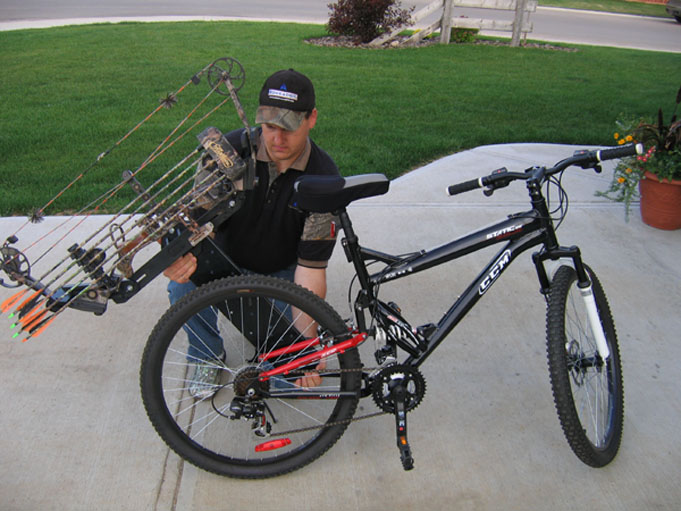 Many hunters prefer to trek the trails on two wheels instead of four, and for obvious reasons. Besides being quieter, it's also much easier to navigate down narrow game trails with less concern for scent control. As well, bikes are sometimes allowed in areas where off-highway vehicles are not. Stack the odds of bagging that buck in your favour by getting to your stand...farther, faster and quieter. If you're a bowhunter AND a biker, check out these additional resources assembled to assist you in the creation of your quintessential mountain bike bow rack:
UTV Bracket Adapted for Install on a Mountain Bike - Video Tutorial
Mountain Bike Bowkaddy Installation Instructions
Happy Trails!