Have you ever wished for a third arm to hold your bow while travelling the backwoods on an ATV? Are you less than impressed with your current bow holder? Is your current bow carrying system a piece of foam and a bungee cord? Bows are fairly cumbersome by nature, especially when carried among a bunch of other gear on your ATV. And let's face it - they're not cheap. The average hunting bow complete with all the necessities will nowadays cost between $1000 and $1500, with many setups exceeding $2000. If you've been searching for a better way to transport your weapon on a four-wheeler and, at the same time, protect your investment, search no longer.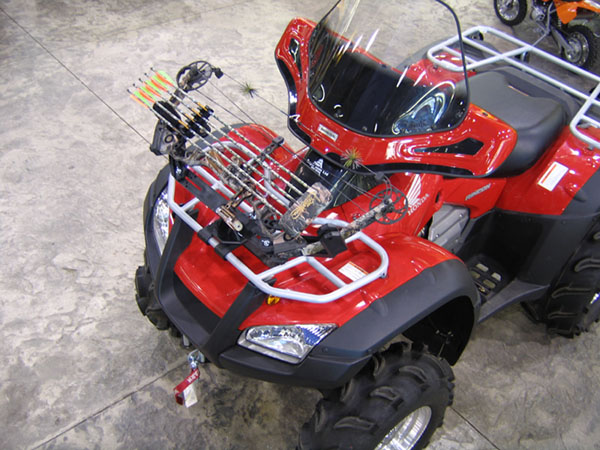 Fasten ATV Bracket to your quad along with Bowkaddy, put your bow in the rack and you're off...hands free! This bracket combines simplicity, reliability and practicality into an affordable accessory for your off-road hunting experience. Here's the proof...
Simple. Only one anodized aluminum body and one fastener - that's it. There are no moving parts to wear out.
Reliable. The ATV Bracket will fit any quad with a tubular or channel metal rack (front or back). The unique geometry ensures a snug fit around tubing diameters between 5/8" and 1". A rubber-coated J-Bolt ensures stability while minimizing the risk of abrasion against the painted metal of your quad rack.
Practical. Very easy to attach to your quad, and very easy to remove (for example, when you have to replace your bow rack with a moose rack!) Simply back off the wing nut and detach. No tools required! As well, when installed on an ATV, Bowkaddy can be tilted upward, opening up additional storage space on your rack for other gear such as duffel bags, rifle racks, clothing, etc.
Note - The ATV Bracket is not a required accessory for all types of ATV's. Bowkaddy can often be bolted directly to ATV's that are outfitted with composite (non-metal) racks. In these cases, because most composite racks are corrugated, it is recommended that a layer of metal or plywood be placed between the Bowkaddy base and the composite rack to provide rigidity and ease of fastening. The same procedure applies if you wish to mount your bow rack on your quad tool box.