The Ultimate Solution for Side x Side Bowhunters...
The popularity of UTV's or "side-by-sides" has risen dramatically in recent years, and it's easy to understand why. With their protective roll cages and covered spacious cabs, they offer an added level of safety and comfort compared to conventional all-terrain vehicles. As well, they can carry more hunters and supplies into the bush, and more hunters and meat out of the bush. That being said, the cargo area does have limited capacity, and one or two hard bow cases can eat up precious space in a hurry. So forget your hard case. Forget about holding your bow while trying to drive. Forget every other fandangled, telescoping, tensioning, "universal", fits-everything bow rack design you might have seen in the past. Nothing compares with the simplicity and versatility of the latest offering by Alaris Concepts...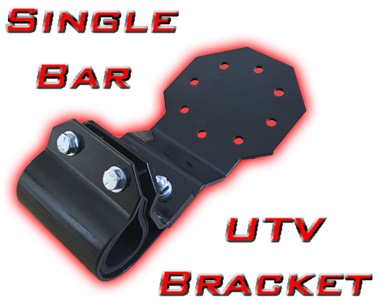 No longer do your roll bars have to be a certain width apart. No longer are you restricted on where you can mount your bow. And no longer do you need to choose between a gun rack and a bow rack. Now there's a place for everything. This game-changing design allows Bowkaddy to be installed on a single round bar. The steel bracket wraps neatly around 2" diameter straight bars with zero drilling. It comes with 3 high-durometer rubber spacer strips for adapting to tubing diameters down to 1-1/2". The large contact area between the bar and the bracket provides for maximum friction and ZERO bracket movement, even across the most treacherous terrain.
The pictures below show the versatility of the Single Bar UTV Bracket, which can be mounted to the back, front, side or top of your machine. The front corner posts of this Can-Am Commander XT 800 make a great mounting location for a single or tandem setup.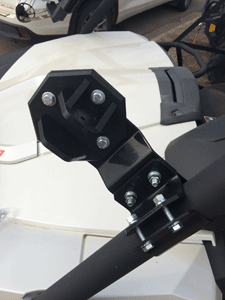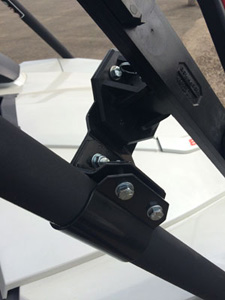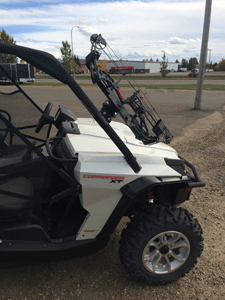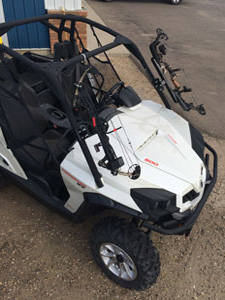 There's one more cool feature to point out. One Single Bar UTV Bracket is capable of supporting two Bowkaddies and two bows in a back to back configuration. More pics to come in the near future to illustrate this and many other mounting options.