The Double Bar UTV Bracket is the original bracket developed by Alaris Concepts for the side by side market. It is a 25.5" long, heavy-gauge steel plate with a rugged powder coat finish. There are several pre-drilled holes for placement of the U-bolts and Bowkaddy base(s). As the name suggests, it requires two adjacent bars/members for standard mounting. The bars can be parallel, vertical, horizontal or diagonal.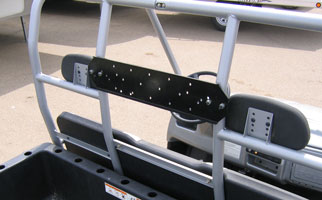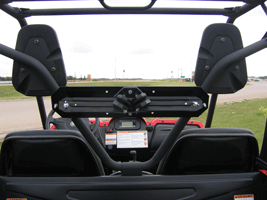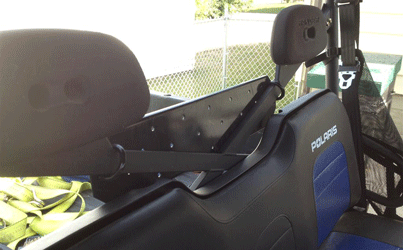 The Double Bar UTV Bracket can accommodate one Bowkaddy (and bow) in either orientation (horizontal or vertical) or two Bowkaddies (and bows) situated perpendicular to the bracket.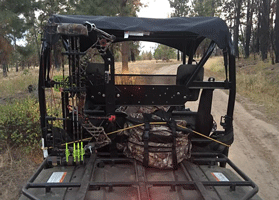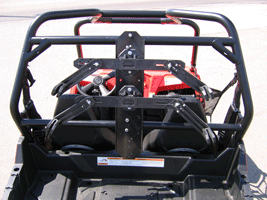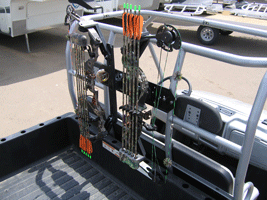 The installation will vary from machine to machine, but is pretty straight forward. Pick a mounting location where the bracket will span the gap between two bars. U-bolt the bracket to the bars. Fasten Bowkaddy to the bracket. Insert bow. Done! Note that it may be necessary to drill additional holes in the bracket to accommodate the particular geometry of the bars. This is easy to do with a drill and does not affect the warranty of the product. Once installed, you'll find the bracket extremely rigid and perfectly capable of handling the rigors of the trail.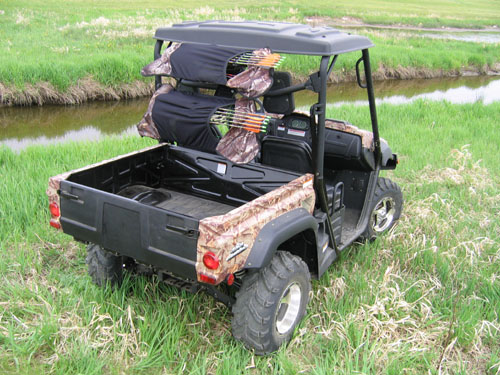 How about a bow rack for your Mountain Bike?
The Double Bar UTV Bracket can also be mounted onto the rear forks of most mountain bikes. No longer do you need to hold your bow while trying to ride. No more slinging your bow over your shoulder. Using your bow as a brush guard on your front handlebars? Not anymore. With some slight modifications to the bracket, you can create your own custom-fit, ultra-sturdy mountain bike bow rack and cruise down the narrowest of trails with complete confidence and serious stealth.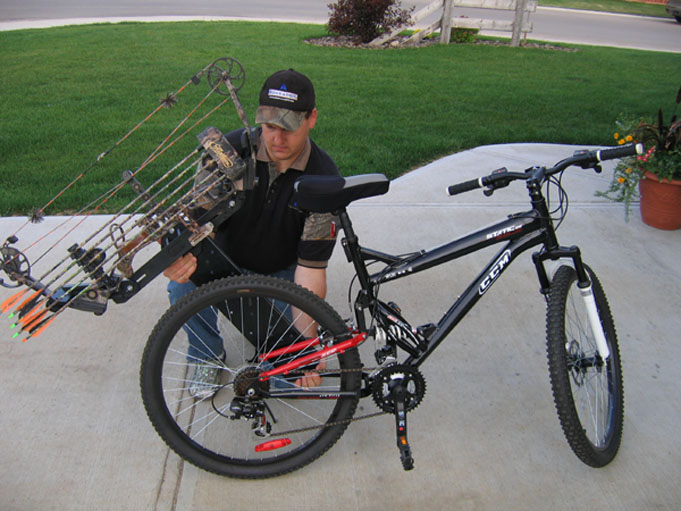 Some hunters prefer to trek the trails on two wheels instead of four, and for obvious reasons. Besides being quieter, it's also much easier to navigate down narrow game trails with less concern for scent control. As well, bikes are sometimes allowed in areas where off-highway vehicles are not. Stack the odds of bagging that buck in your favour by getting to your stand...farther, faster and quieter. If you're a bowhunter AND a biker, check out these additional resources assembled to assist you in the creation of your quintessential mountain bike bow rack:
UTV Bracket Adapted for Install on a Mountain Bike - Video Tutorial
Mountain Bike Bowkaddy Installation Instructions
Happy Trails!