The "Bow-Kini" Solution
Bowkaddy has proven itself as a very practical bow transport product for use on vehicles of all kinds. Originally created for use in pickup boxes, Bowkaddy has found niche applications on boats, display walls, workbenches, wheelchairs, in pickup cabs, and most popularly, on ATV's. Storage space on ATV's is usually limited, what with all the contingent gear that goes aboard "just in case". Finding room for a large bow case can be a real challenge. Bowhunters have long sought a product which provides security, versatility and accessibility for their archery equipment. Bowkaddy addresses these virtues in compact and aesthetic fashion.
Despite the obvious benefits of Bowkaddy, one of the arguments against the use of Bowkaddy on an ATV (as opposed to a case) is the exposure to elements such as dust and mud. While many hunters appreciate the luxury of leaving their case at home, they also appreciate equipment that is clean and operationally sound. Some of these folks have requested that a cover be designed to protect the cams and string against the nastiness of nature.
During a recent visit to a local archery shop, I was very happy to stumble upon a "fitting" solution...I call it the "Bow-Kini" Solution. This well-designed bow cover stretches to fit snugly over the bow AND Bowkaddy, offering excellent protection against any mud that dares fly towards your precious weapon. Manufactured by a company called Black's Creek and endorsed by Mathews, this product boasts several features. Great-looking RealTree Hardwoods camo-patterned material on each end separated by a central region of black stretch fabric ensures adequate protection over all key components of your bow. The attachment clips on the back indicate that much thought went into the design of Bow-Kini. There's also a hole on the top side so you don't even have to remove your arrows from your quiver! I've seen several bow sling devices that offer some protection to the cams and string, but this is undoubtedly the best accessory to Bowkaddy that I have seen. Designed ideally for parallel limb bows, the creators at Black's Creek claim that it also works on conventional limb bows.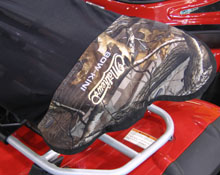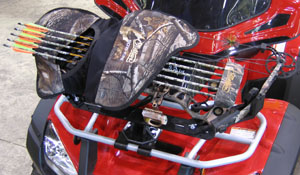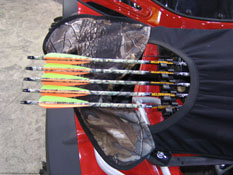 Worried about mud, dust and dirt getting to your gear? Don't be. Trust Bowkaddy to deliver your gear safely and securely. Trust Bow-Kini to get it there in fine (and clean) fashion.