In This Issue...
New Look for the Logos

Hi-Lights from the 2008 US Trade Shows
Product Update: Kaddy Bracket UTV

---
Hello all and welcome back to the Bulletin. It's been a few months again since my last bulletin, which I apologize for, but I think you'll find some great news and information in this issue.
With trade show season behind me for another year, I look back at the last few months and wonder where they went. Trying to escape the bitter cold Alberta winter, I boarded a plane to Indianapolis to exhibit at the 2008 ATA Show in mid January. The show went well, not counting some issues with my freight company. But everything arrived, albeit late, in one piece and the booth came together in the nick of time. I followed up the Indy show with Bowkaddy's maiden voyage to the SHOT Show in Las Vegas. Huge is the only thing I can say to summarize that show. More stuff than one can see in the four days it lasted. Some exciting things came out of each show, which I'll get into shortly.
The word on the street is spreading since Bowkaddy hit national television in January. The commercial airs 5 times weekly during Hunting Canada and Beyond. If you're looking for great outdoor content, you should check out Wild TV, available on select cable networks, Bell ExpressVu, and now on StarChoice! The show will also be available soon on XONTV.

Spring bear season is here again and I can't wait to get the barrels back in the bush. I know many also have spring turkey on the mind. But let's not jump too far ahead without focusing on the latest and greatest news from Alaris Concepts...
As Alaris Concepts continues to improve its product offering, it just seems fitting that its logos undergo some positive change now and again. While the basic font and imagery are the same, I hope you'll agree that the new look is a good one, thanks to the magic of graphics design software!
The decision to add "Bow Rack System" to the Bowkaddy logo came from a desire to raise awareness surrounding the versatility of the product. Bowkaddy has become much more than just a bow rack. With 3 universal brackets for different vehicles as well as a high quality soft cover to meet the challenges of muddy trails and legalities surrounding cased bows, Bowkaddy is definitely more of a ... SYSTEM!
| | |
| --- | --- |
| The Old... | The New!!! |
| | |
| | |
---
This segment could easily be a stand-alone bulletin, but I'll try to stick to the higher hi-lights for the sake of brevity...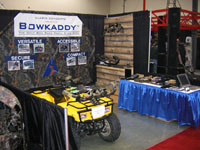 ATA Show - Indianapolis, Indiana
New additions to the Bowkaddy booth unveiled in Indy including a scaled down workbench and display wall.

Pape's Archery expresses an interest in Bowkaddy and sets the ball in motion to bring the product aboard in mid-2008. Look for the full page ad in the Pape's Fall 2008 Catalogue!

Thanks to two local bowhunters, Michael Stein and Keith Bradley, for the use of their ATV in the booth during the show!

I got to meet Jimmy Houston when he stopped by my booth for a chat! Great guy with great taste in new products! <wink> <wink>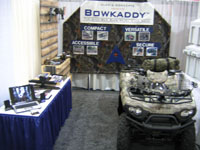 SHOT Show - Las Vegas, Nevada
Best-looking Bowkaddy booth I've assembled (if I do say so myself). Thanks to the guys at RideNow Powersports for providing a beautiful camouflage Kawasaki hot off the show room floor!

Contacts Galore - with a show this big, you're doing something wrong if you don't bring back a separate duffel bag full of business cards!

Electric UTV companies expressed interest in the Bowkaddy bow rack system as a possible accessory to their machines. Nothing written in stone yet, but plenty of optimism.

Great food and great entertainment! Enjoyed the Gala Banquet headlined by country music star, Randy Travis!
---
Product Update - Kaddy Bracket UTV
I know there are many of you eagerly awaiting the arrival of the UTV Brackets. I received a sample bracket in its final packaging a couple weeks ago from my manufacturer. The bracket is fairly heavy duty and I wanted to make sure the clamshell packaging was sufficiently strong. I immediately approved the design and did my best to 'light a fire' in China to minimize the delivery lag time. I'm told it will reach the US warehouse on or before May 20th. This means I should have stock in Wainwright by the end of May to fulfill any and all Canadian orders. I'll send out a special Bulletin as soon as they are ready for sale. Keep an eye on your inbox in late May!
---
Best of luck to everyone afield this spring.

We'll talk to you again soon!

- Arliss McNalley
---