In This Issue...
Kaddy Bracket UTV is Finally Here!

Bear Hunting 2008: Mexican Memories and Cowboy Hats
Distributor Update
---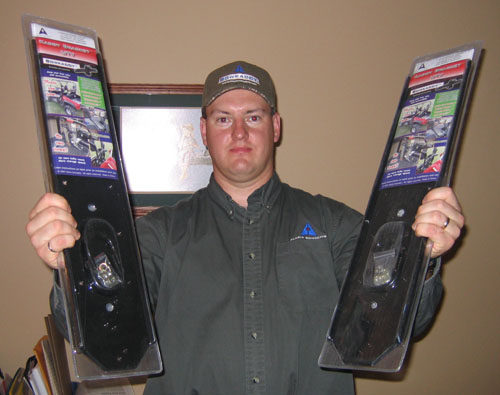 I know some of you have been anxiously awaiting the arrival of the UTV Brackets, so without further delay, here's the good news...
Kaddy Bracket UTV is Finally Here!
It took some time to bring the product to market, but for all the UTV owners out there who have been waiting for it, I'm happy to say the wait is over. My first shipment of Kaddy Bracket UTV's (or UTV Brackets for short) hit the warehouse a couple weeks ago and landed on my doorstep in Wainwright just the other day.
My hopes were that it would have arrived in time for the Spring black bear season. Unfortunately this didn't happen. Due to some design and packaging issues, I decided it was better to hold off on the release until the product and packaging were as good as I thought they could be. And I'm glad I did. The metal plate was originally 3mm thick, which seemed sturdy enough, but showed too much deflection when hanging two bows from it. The new powder-coated plate is a hefty 4mm thick and virtually impervious to damage. The extra weight of the bracket added some challenges to the design of the plastic clamshell. The mold had to be modified to make a clamshell strong enough to hold the 25-1/2" long chunk of steel. The end result is a product that I'm very proud to present to the off-road bowhuntin' folks out there.
So why all the hype about a 25-1/2" chunk of steel? By itself, I suppose, it's not all that earth-shattering. But coupled with a Bowkaddy or two and mounted to the roll bars of a side-by-side utility vehicle, you've got the best mode of secure bow transport on the off-road market today!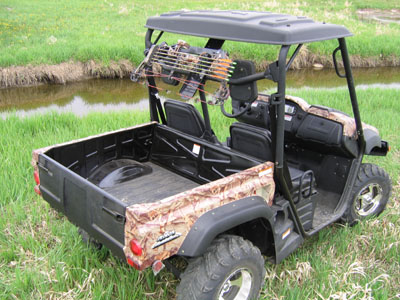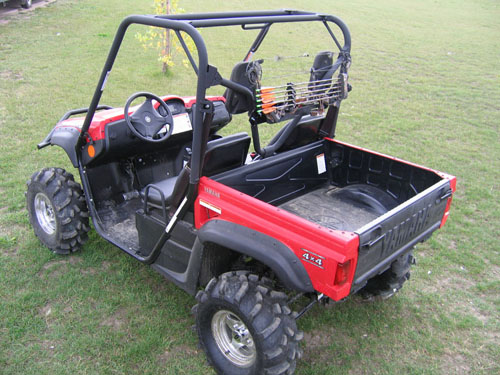 Right off the shelf, Kaddy Bracket UTV can be easily mounted to the following UTV models:
Polaris Rangers
Yamaha Rhinos
Arctic Cat Prowlers
Midwest Rednecks
With a drill and 21/64" drill bit, additional holes can easily be tapped into the plate to facilitate mounting on these machines as well:
Polaris RZRs
Kawasaki Teryx
Motobishi UTVs
And Others!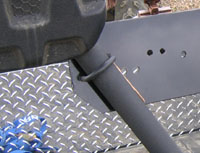 Installation of Kaddy Bracket UTV couldn't be easier. The two U-bolts are rubber-coated to provide shock-absorption, mounting friction and abrasion-protection for the roll bars. Simply position the bracket on the back of the roll bars and fasten the U-bolts with the nuts and washers provided. That's it. Now you're ready to throw on a Bowkaddy ... or two! (After all, these machines are built for two people, right?!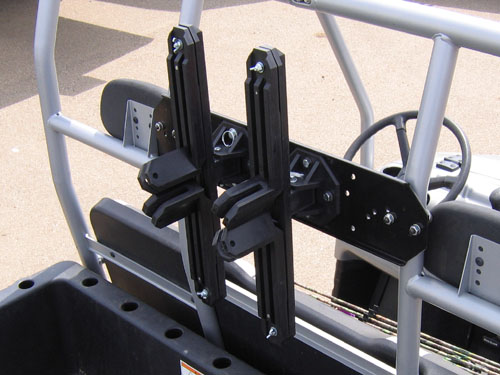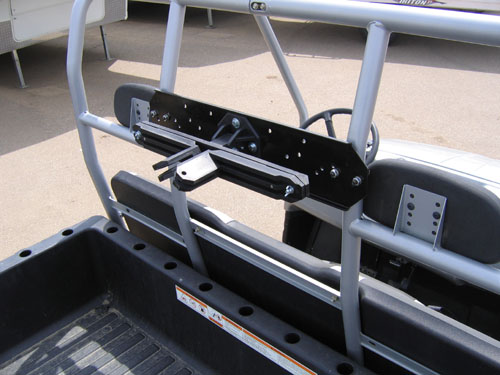 )
Now insert a bow ... or two!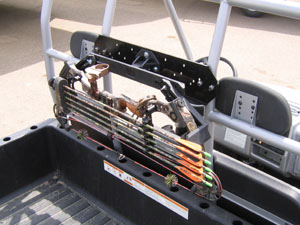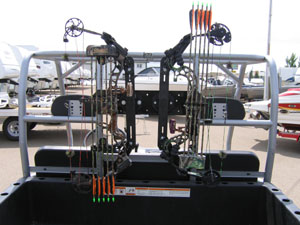 And just for a little insurance on those muddy back country trails, how about a bow cover ... or two! The Bow-Kini bow cover is considered a legal alternative to a cased bow in several states and provinces which require the bow to be "cased" during transport.
Now that's a machine ready to go bowhunting!
No more bulky hard cases. No more cushions and bungee cords. No more holding your bow while trying to drive. Complete protection. Complete accessibility. The complete solution!
Thanks to Louis de Kock at Dream Power & Sport in Lloydminster, AB and the many other dealers who were gracious enough to let me use their machines for my photo sessions. Greatly appreciated.
---
Bear Hunting 2008: Mexican Memories and Cowboy Hats
When my Dad and I dragged my first black bear out of the bush way back in the spring of 1990?, it became a memory I'll cherish forever. I still return each May to the mixed timber of northern Alberta to relive the anticipation and excitement of the spring black bear hunt. This year turned out to be particularly special, not because I killed a trophy bear, because I didn't. Never even got to put a pin on one. Instead, May 2008 will be forever remembered in the mind of a friend named Julio Rosales who bought his first bow in March and is now getting used to the fact that his name will appear in the Pope and Young Record book after his very first encounter with an Alberta black bear...
One day in March this Mexican gentleman walked into my office at work and told me quite directly, "I would like to shoot a bear with a bow and arrow."
Still getting used to his accent and pronunciations, I said, "You want to do what?" Not that the statement was outlandish, I just didn't understand him. I chuckled once I knew what he was talking about. "Did you do any hunting in Mexico?"
"No."
"Have you ever shot a bow?"
Again, his answer was, "No."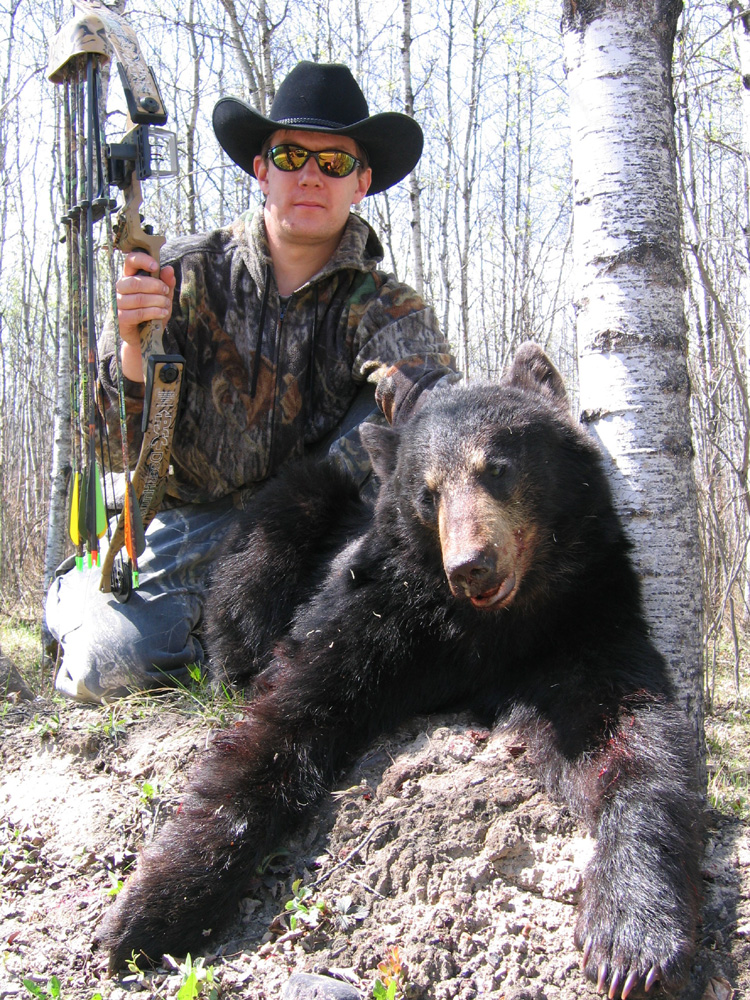 Now I've heard many people express interest in bear hunting and then never follow through, but this guy seemed to be the real McCoy. "Okay, but you can't come up unless you get a bow and learn to shoot it. And even then, I can't guarantee you a hunt." You see, we only have 3 baits and there are a good half dozen "regulars" that fill the stands each May Long Weekend. The possibility to go bear hunting was all he needed. The next day he went to the local archery shop and bought a second hand Mathews with all the fixun's to go hunting. He practiced several times a week and by early May was shooting surprisingly well.
As it turned out, there wasn't any room over the long weekend for Julio to join the gang up north. So myself and three other friends from work plus another newbie hunted the extended weekend, enjoying the great weather and good fishing. Marko, my supervisor at work, and I sat one noon hour over a bait when a nice two year old walked in at 11:30. Marko made no mistake as he sent an arrow through the heart of the bear which ran about 30 yards and expired. To see the video of this fantastic shot, check out Marko's Clean Kill on the Bowkaddy Kronicles.
Besides a couple smaller bear, there were two or three definite shooters at one of the other baits. We hunted it hard, but the man in the black Stetson was the only one to put a tag on a bear over May Long.
We all returned to work for a long few days. You should have seen the wide-eyed expression on Julio's face when I asked him if he wanted to come bear hunting the following weekend. He had a few days left to get his hunter education certification, pick up his licenses and, oh yeah, buy a decent sleeping back.
All formalities addressed, we jumped into our pickups and journeyed back up north for the final weekend hunt of the year. We sat Friday night and Saturday noon hour and didn't see any bear. I was starting to feel the pressure. This was not a guided hunt, but I knew Julio had invested a lot of time and money into his new hobby and I didn't want him to go home without at least seeing a bear. This would make it all worthwhile for him, I thought as 7:00 pm passed in the stand on Saturday evening. A couple more hours to go and that's it, I thought.
Just before 7:30, I looked over my left shoulder to see Julio pointing frantically behind him. "Right on," I thought. I didn't have to look where he was pointing. I knew it was a bear and I flipped on the video camera. Then I slowly turned to look behind me. Holy crap! It was one of the bruisers! Of course, Julio didn't know how big it was, or care. This was his very first encounter with a wild black bear, and he was determined to put an arrow through it, regardless of its size. I followed the bear through the lens as he stopped by a small tree and reared up to scratch his back on the sapling. Then, uncharacteristic of a bear his size, he just sauntered right up to the bait barrels and presented a quartering away shot for Julio. I looked over to see Julio draw in silence. I zoomed in and "THWACK". The arrow hit the barrel and the bear bolted out in the direction he came in from. I followed the bear for 4 or 5 seconds, expecting him to disappear into the forest. Instead, just 26 yards from the barrel, he toppled over. Big bear down! I couldn't believe what had happened in the previous 60 seconds. But that was an understatement compared to what Julio's brain was trying to wrap itself around. You should have seen the look on his face. Hey wait ... you can. Check out the footage of "Ultimate Beginner's Luck" on the Bowkaddy Kronicles.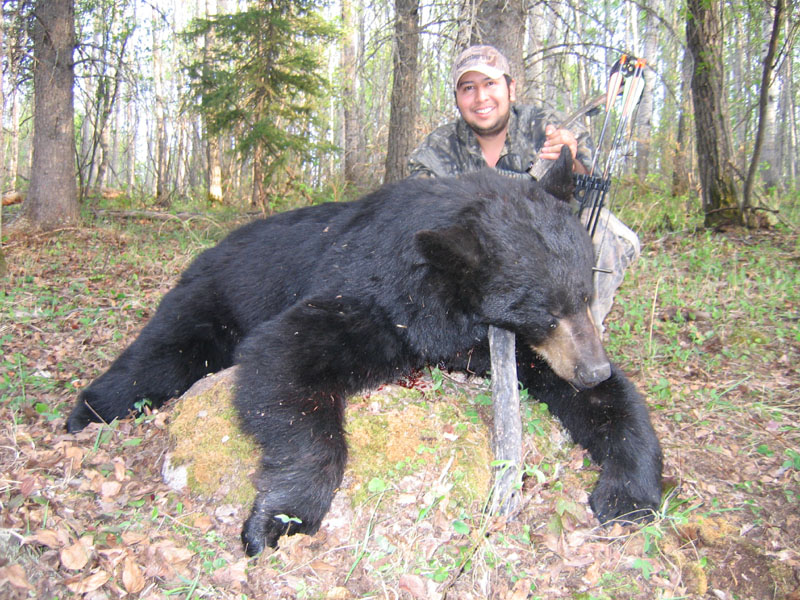 ---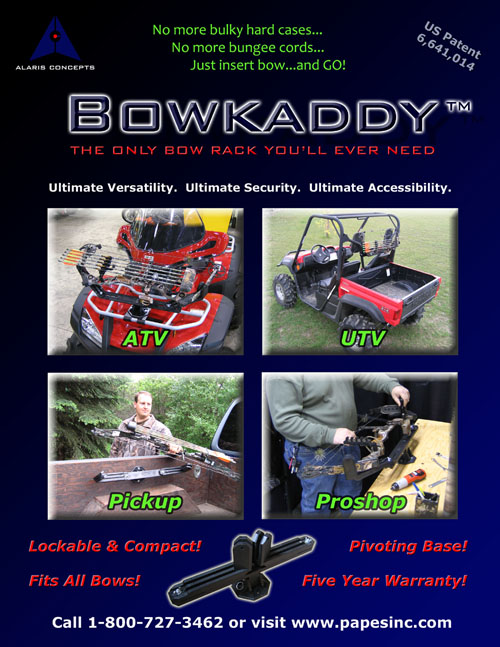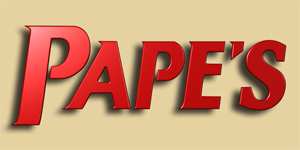 will be coming out soon with it's Fall 2008 Dealer Catalog. If you're an archery dealer, you know it's just like getting the Sears Christmas Wish Book when you were a kid. All the hot new toys (gear) to prepare the boys and girls (bowhunters) for the ensuing season of autumn bliss.
Well, I'm proud to say that one of the hot new gear items gracing the pages of their '08 publication is Bowkaddy. The artwork at right will appear as a full-page ad in the catalog.
I'm definitely excited about reaching a larger dealer market with this distribution channel. Many people are warming up to the idea of online and phone shopping, but there's still a lot of folks who'd rather stop by the local shop and wrap their fingers around the box before making a buying decision. So stop by your local archery shop and ask about Bowkaddy! It's in the new Pape's catalog. (Thanks in advance!)
In Canada, stay on the lookout for Bowkaddy at the following venues:
UTV Canada Inc

Wholesale Sports

Trophy Book Archery
---