Speed Goat Masquerade 2008
Left-Handed Bow Kovers Have Arrived

"The Latest Installment" - Suzuki Kingquad Toolbox Mount
Trade Show Plans for 2009
---
Here's hoping you're getting your fair share of hunting in this fall. I've done pretty good as far as hours afield go. Having trouble finding the right bull moose, but have arrowed a couple deer and a pronghorn antelope, which is where we begin this Bulletin...
My brother, Bryce, and I pointed the Ford south and spent the next couple hours catching up on life's events and wallowing in the excitement of our first archery antelope hunt in years. In fact, this would be Bryce's first time pursuing pronghorns as a shooter. Two and a half hours of travel found us pulling up to the campsite already staked out by our Uncle Albey and cousin Carman. We would've been there sooner if not for our moonlit scenic tour around Blood Indian Reservoir.
Carman wasted little time in showing us the video of their day's events, culminating in a great 45 yard shot by Albey on a nice antelope just before dark. Right on! One down, two tags to fill. And with three days ahead of us, time was on our side.
If time was on our side, the weather certainly wasn't. Sure, it was nice if we wanted to sit in a lawn chair and catch trout all day. But we were here to hunt and the cool early-rut weather of mid September just wasn't that cool. Hopefully the bucks would still be aggressive enough to challenge our costume decoys.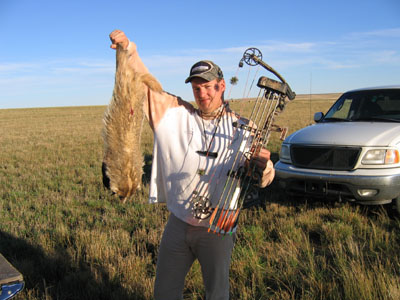 Soon after entering the WMU on Thursday morning, the herds started to show themselves. As Bryce was trying to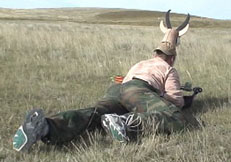 fill his first antelope tag ever, I let him have the honors while I manned the Sony HDD cam. One stalk after another, we crawled across cactus-ridden plains only to be foiled by our normally curious adversary. Following close behind on every stalk with the camera rolling so as not to miss a shot opportunity, I accumulated way more footage of my brother's backside than I care to mention. Um...delete that.
Considering the vast openness of the Alberta prairies, it's always amazing to see the wide variety of species that call this place home. Besides our primary quarry, we also saw elk, mule deer, moose, tons of coyotes, gophers and, oh yeah...a badger. My first one with the bow, to boot!
Bryce's best opportunity came in the late morning of Day 2 when we spotted a nice buck bedded down in some sage brush some 500 yards away. Over the next hour, we closed the distance to a mere 22 yards. With a stiff crosswind and the buck laying quartering away from us, the plan was coming together. As Bryce drew his WCA Innovator Pro, the buck caught a glimpse and jolted a couple steps away before turning broadside. Looking through the viewfinder, I couldn't see the arrow's flight, but the antelope bolted away and Bryce dejectedly informed me that something went wrong. Now, normally I'm a big proponent of the Whisker Biscuit arrow rest, but we learned on that day that even great products have an Achilles heel. Having carried his bow at ground level with a nocked arrow for some one hundred yards during the final approach, the arrow became wedged into the bristles of the biscuit. During the draw, the arrow didn't return to center position which threw the arrow sharply down and right. Watching that Pope & Young pronghorn trot over the hill was definitely the low point of our hunt.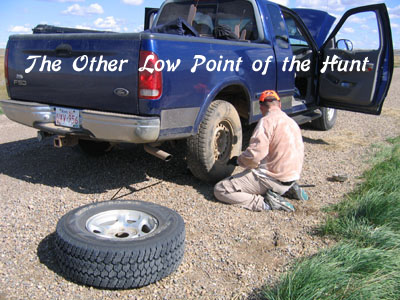 In an effort to change our luck, Bryce agreed to swap positions on the next stalk. Only a few miles away, we found an antelope herd grazing behind a shallow hill. "Perfect," I said as I backed up and parked the truck. I donned the antelope head and grabbed my bow. Bryce followed close behind, camera in hand, as we approached the hill with an aggressive, "not fooling around anymore" mentality. We crested the hill to see the herd disappearing over the next rise. Oops, maybe a little too aggressive. But wait...there's a couple bucks down below! We assumed the position, fully expecting them to study us for a minute and then follow the herd out of our lives.
"Here they come!" I said over my shoulder as I latched my trigger release and put on my best antelope impersonation. The bigger of the two led the way, trotting offside now at about 50 yards. A short grunt finally got him stopped and an arrow quickly made flight. Curses...shot behind him. Unshaken, I grabbed another arrow as the antelope did a buttonhook towards Bryce, putting him now at 40 yards! By this time the second buck had made the scene and was less startled when I drew my Switchback for a second attempt. I settled the pin on the standing buck and released. Thwack! The first buck headed east to safety while the second took off hell-bent in a wide circle, indicative of a solid hit. Less than a hundred yards later, the buck expired. For a few minutes, two grown men jumped around like little kids, relishing brotherhood and another moment in our hunting careers that will never be forgotten.
Check out the video of this exhilarating hunt on the Video Gallery.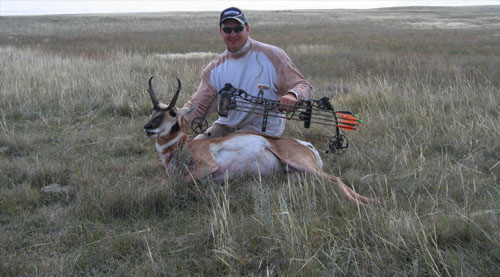 ---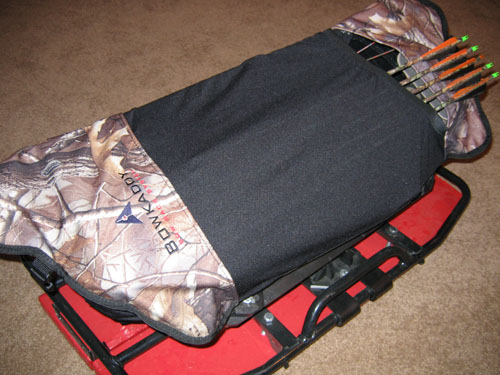 Product Update - Left-Handed Bow Kovers Are In!
The first shipments of left-handed Bow Kovers have finally arrived at my Illinois warehouse and here in Wainwright. Due to consumer demand, I had to hasten the manufacturing of these covers. Sorry for the delay, but if you're wanting one, give me a call or visit the Store Page to place your order. See the previous Bowkaddy Bulletin (Issue #12) for more info on the Bowkaddy Bow Kover.
---
"The Latest Installment" - Suzuki Kingquad Toolbox Mount
Here's what happens when an innovative individual lays his hands on a versatile product...
Thanks to Blake Howland from Calgary, AB for sending in these pictures. Great job on the install, Blake!
ATV: Suzuki Kingquad 4x4
Box Seat: Wes Classic Standard
Inside Reinforcement: 1/4" Plywood Cutout
Bow Carrier System: Bowkaddy and Bow Kover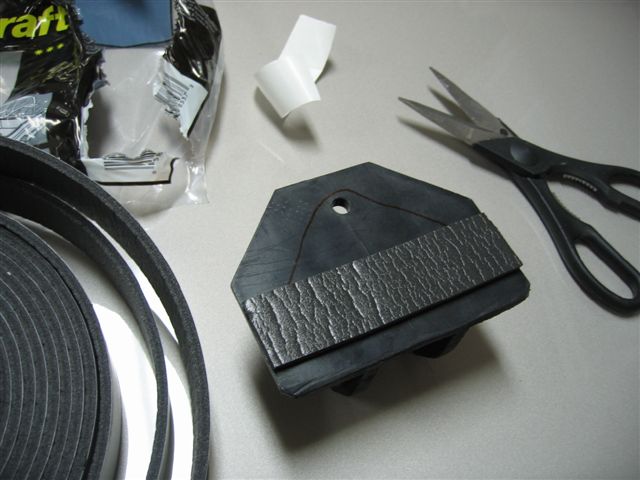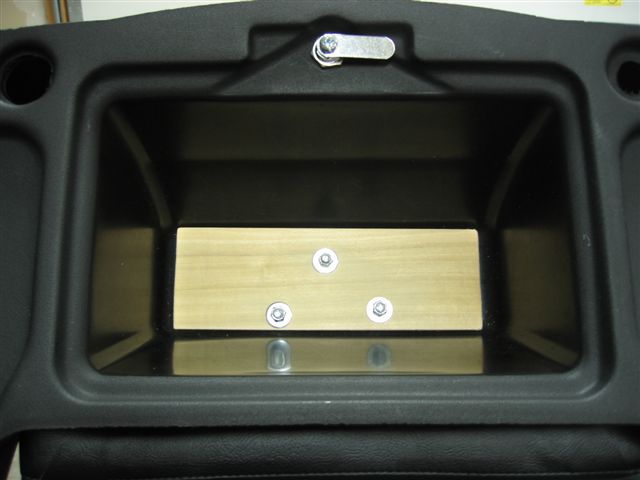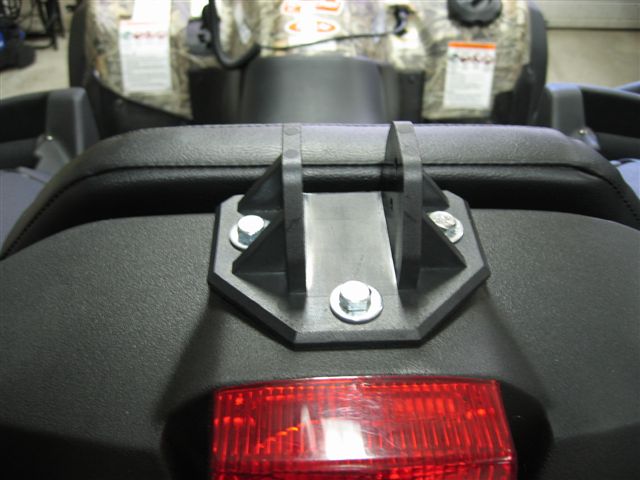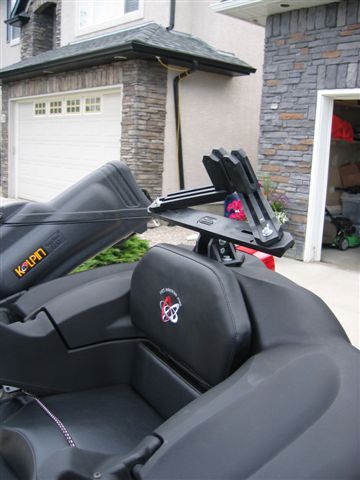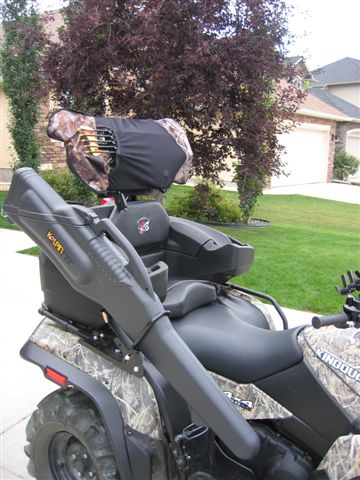 If you have any questions pertaining to an install such as this one, feel free to contact Alaris Concepts.
---
The first quarter of '09 looks to be another busy trade show season for Alaris Concepts. Here are the venues as it stands now:
ATA Show - Indianapolis, IN
January 8-10, 2009
Indiana Convention Centre
Saskatoon Sports and Leisure Show
March 5-8, 2009
Prairie Land Park
Toronto Boat & Sportsmen Show
March 18-22, 2009
Direct Energy Centre Exhibition Place
Canadian Indoor 3D Nationals - Red Deer, AB
March 27-29, 2009
Westerner Park
---