<![if !vml]> <![endif]>

Trade Show Season Review

The Crossbow Connection

"The Latest Installment" - Bowfishing Boat!
---
Did that seem like a long, cold winter to you? It sure did to me. Got through it with a few ice fishing day trips and a handful of outdoor trade shows to keep the spirit alive. Lots of great stuff to bring to you in this issue, but let's start off with a quick rundown on the trade events I have participated in thus far in 2009...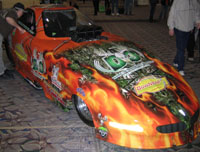 ATA Show
Back to Indianapolis for the big dealer show. Thanks to Jason Hudkins, owner of Athens Archery, for supplying the Suzuki King Quad for my booth! Nice bows, by the way. Despite the economic downturn, attendance was good and I even signed up a few new dealers in the states of Kentucky, Michigan, Indiana and Ohio. I didn't win the African Dream Safari at the Great Giveaway, but I did enjoy the live Blake Shelton concert and caught a free Lone Wolf T-shirt from Helgie Eymundson who shot that monster non-typical whitetail in Alberta in '07. Next year the show moves to Columbus, Ohio.
Saskatoon Sports and Leisure Show
My first time exhibiting in Saskatchewan. Met lots of great people including Jason Peterson and family, plus several other Hunting Canada and Beyond personalities. Good news for the local bowhunters - Bowkaddy is now available at North Pro Sports!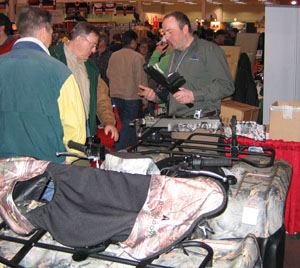 Toronto Boat and Sportsman's Show
First of all, I'd like to apologize to all the patrons in central Alberta who expected to see Bowkaddy at the Edmonton show, but shipping logistics prevented me from doing both venues. Not to worry, though. I'll be at Edmonton Huntfest in August before everyone heads out for the fall hunt!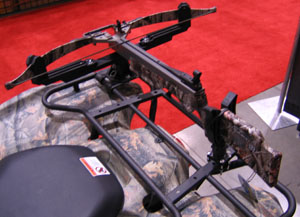 Toronto was definitely an eye opener for my cousin, Carman and I. We were astounded at the number of hunters that enjoy the use of crossbows in Ontario. The brand of choice is the Excalibur, manufactured in Kitchener. After a little scrambling, I was able to track down a Kolpin Gun Grip II to mount on the back of the quad to support the stock of an Excalibur Phoenix crossbow generously offered by Fishing World. I always knew Bowkaddy could be used to support the limbs of a crossbow, but this show has forced me to take a serious look at the crossbow market. More on crossbows to follow in this bulletin...
Canadian Indoor 3D Nationals
This event in Red Deer, AB was a nice consolation considering I opted out of the Mother of All Shoots this year. Congratulations to the shooters and the Red Deer Archery Centre for organizing a great event. Add another Bowkaddy dealer to the growing list...Thunderhead Archery Supplies in Delisle, SK.
Click here to see the comprehensive list of Bowkaddy dealers across Canada and the US
Next trade show stop ... Huntfest 2009 - River Cree Resort & Casino - Edmonton, AB - August 14-16

Mark Your Calendars!!!
---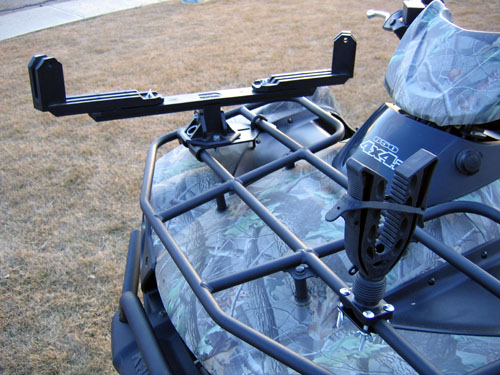 For over three years, Bowkaddy has served the needs of bowhunters who were looking for a better bow rack system. The Toronto Sportsman's Show brought to my knowledge there are a lot of crossbow hunters out there who are also seeking a superior alternative to carrying their crossbows in hand, on their back or in a bulky crossbow case. Bowkaddy has always been capable of supporting the limbs of a crossbow, and I've even sold product to hunters crafty enough to supplement the 'Kaddy with a U-style gun holding device to support the stock of their crossbow. However, with limited crossbow-hunting opportunities in western Canada, the justification just wasn't there to promote Bowkaddy as a crossbow product. That has changed.
This article aims to describe and illustrate the mounting of Bowkaddy, in conjunction with a Kolpin* Gun Grip II, onto a Kawasaki ATV to efficiently carry a crossbow (in this case, an Excalibur Phoenix). Although the gun grip is an after-market accessory in this case, the joint system takes a normally awkward weapon and makes it efficiently transportable.
Setting up the System to Work for You and Your ATV

The installation of this setup must be preceded by a few questions:
Front mount or rear mount? If you have a toolbox on the front or back rack, the answer will be obvious. If there's a choice, some people prefer it on the front where they can keep an eye on their crossbow while traveling. Then there are others who like it on the back because they consider it an area of greater protection. Do what works for you.

What kind of ATV do you have? Not all ATV's will accommodate a front rack installation, usually because the crossbow limb will end up interfering with the handlebars while steering. On quads where the rack tubes run parallel across the width of the machine (as shown in pic), Kaddy Bracket ATV can be cleverly installed at an angle which reduces the height of the crossbow limb so that it doesn't interfere with steering. On smaller quads, the front rack may be too small to provide enough separation between the Bowkaddy and the Gun Grip. The rear rack on most ATV's can easily accommodate this setup. If you have a Polaris quad with composite racks, the ATV Bracket is not required, but Bowkaddy and the Gun Grip must then be fastened directly to the rack. This assumes you are willing to drill a few holes in the plastic rack of your Polaris ATV. Sorry, but there is currently no non-intrusive alternative for this setup.

What kind of crossbow do you have? If you're from Ontario, chances are good that you shoot a "home-grown" Excalibur. There are a number of other high quality crossbows on the market manufactured by Barnett, Horton, Ten Point and Parker, to name a few. Some have recurve limbs; others have compound functionality. Every brand will have dimensional variances which may require slight mounting variations. To date, the swing arms on Bowkaddy can be adjusted to fit the limb angle and thickness on all of the crossbows that I have tried.

Do you use an attached quiver on your crossbow? A stock-mounted quiver can somewhat limit the mounting options because it can interfere with the Bowkaddy Main Support Arm when the Swing Arms are pointed straight out. There are two solutions, though, as shown with the Excalibur Phoenix in the pictures below. The swings arms may be positioned such that the limbs are held away from the Bowkaddy Main Support Arm, thereby allowing plenty of room for the quiver. The downside of this option is that it moves the crossbow limbs closer to the centre of the ATV and into the seating space. This may or may not be a comfort issue depending on the size of the crossbow and the ATV rider. The other alternative is to simply insert the crossbow upside down in the rack.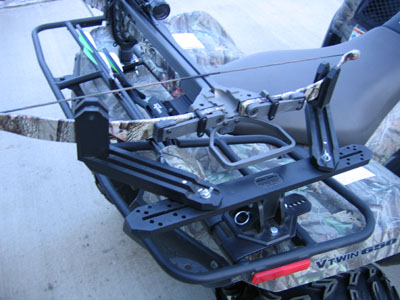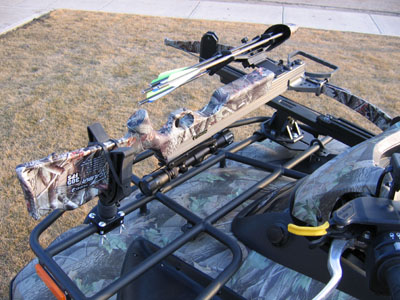 Do you use open sights or a scope? If you use a scope, there should be adequate clearance between it and the ATV rack should you choose to insert the crossbow upside down. With open sights, the upside down method may cause contact between the front sight and the Bowkaddy Main Support Arm. To avoid this, try the right side up approach and adjust the Bowkaddy Swing Arms to accommodate your quiver.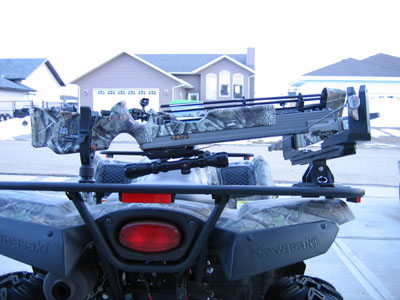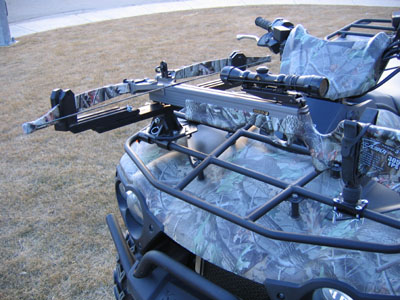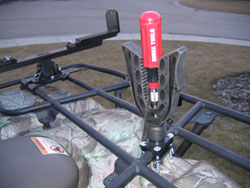 Once Bowkaddy is properly mounted on one side of the ATV rack, the Gun Grip is then mounted to the opposite side. There are significantly less decisions to make at this point as the overall installation nears completion. The Gun Grip is a well-designed accessory with a universal mounting bracket and flexible rubber grip arms. With a Philips screwdriver, the angle of the grip can be quickly and easily adjusted to match the angle of the crossbow stock.
The Kolpin Gun Grip II and similar ATV rifle racks are commercially available all across Canada and the United States. They are sold by the pair at sporting goods stores, motorsports shops, big box stores and online.
*Kolpin and the Kolpin Gun Grip II are owned by Kolpin Powersports, Inc.
If you have any questions pertaining to an install such as this one, feel free to contact Alaris Concepts.
---
"The Latest Installment" - Bowfishing Boat
The use of the Bowkaddy Bow Rack System in boats to carry archery gear has been noted on occasion, but in this issue I'd like to draw some extra attention to it. The popularity of guided and non-guided river boat fishing is exploding, and one individual from San Angelo, Texas sent in these pics which illustrate...where's there's a will, there's a way, and where there's a need for a more efficient bow transportation system, there's Bowkaddy!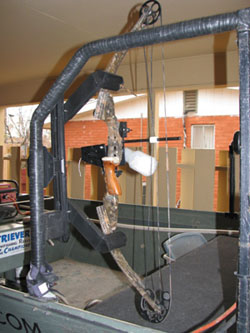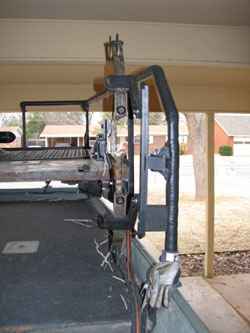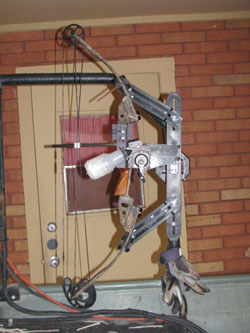 If you have any questions pertaining to an install such as this one, feel free to contact Alaris Concepts.
---