<![if !vml]> <![endif]>

Mountain Bike Bow Rack

Huntfest 2009 Review

"The Latest Installment" - Polaris Lock-n-Ride
---
Greetings, all!!! Pardon the excitement, but hunting season is so close I can taste it. Here's hoping you get some time to enjoy the season before us, and that you take a few minutes now to see what's new at Alaris Concepts...
From time to time, people come up to me, usually at trade shows, and ask if I make a bow rack for mountain bikes. Apologetically, I used to say, "No." I saw a product at the SHOT Show a few years back, but never thought much of the design and had a hard time recommending it to biking bow hunters. I always figured if enough people were interested, I'd take my own shot at a solution.
That opportunity came when my wife decided I was getting a new bike for my birthday - Thanks, Honey! Now, I'm a BMX fanatic from way back, but I've never owned a mountain bike. Strange in a way, since they make a very fit-for-purpose mode of transport for the hunter who needs to get to the stand quickly yet stealthily. Just one challenge - how does one carry their bow on it? Handlebar holders are available, but are better suited for guns than for bows. And really, who wants to use their expensive bow as a brush guard on the front of their bike? Shoulder slings offer a marginal solution if you're not traveling too far as they tend to shift as your body moves with the bike and trail. The only other traditional option is to hold it in one hand while trying to navigate the trail with the other. If you've tried any of these methods, you'll agree it's time for a non-traditional approach...
With a shiny new CCM on one side of my garage and a bunch of Bowkaddy inventory on the other, the bike bow rack may have seemed like a foregone conclusion. However, the design process was hindered by the same difficulties I've seen in the past. Every brand of bow is different, every ATV and UTV brand is different, and yep, every kind of mountain bike is different. I could probably make it work for my equipment, but could I fasten Bowkaddy to the bike in a manner that would be as close to "universal" as possible? In the end, I chose to attach my UTV Bracket to the rear fork tubes and then fasten Bowkaddy to the top of the UTV Bracket. And, as luck-laden ingenuity would have it, it worked!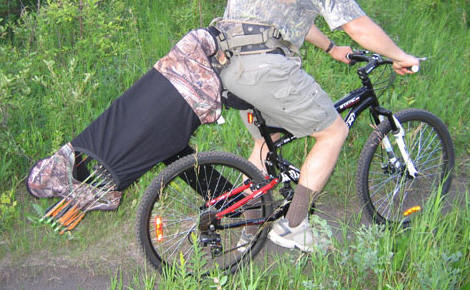 Their are several advantages to using the Bowkaddy Bow Rack System on a bike:
Bow is situated behind the rider, offering protection from trail hazards.

Bow is aligned with the direction of travel; less likely to snag branches, even on very narrow trails.

Bowkaddy holds the bow very securely for peace of mind.

UTV Bracket is removed with relative ease in the off-season.

Bowkaddy Bow Kover can be used for extra protection from dust and moisture.
I'll admit it wasn't quite as simple as taking the UTV Bracket out of the package and slapping it on the CCM. I had to add a few extra holes to the plate so that I could secure it to the fork tubes with some U-bolts that I picked up at a local hardware store. Two additional holes were also needed to fasten the Bowkaddy base to the top of the bracket. I documented the entire modification process in pictorial and video format for anyone interested in this application.
---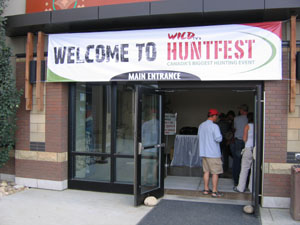 Huntfest 2009 Review - What a Show!
Gear up. Tag out. That was the catch phrase coined by Wild TV as it hosted its first annual Huntfest Trade Show at the River Cree Resort & Casino just west of Edmonton, Alberta in mid-August. From my perspective as an exhibitor, I would never have guessed that this was Wild's first shot at a trade show. From preliminary planning to set up and take down, I give 'em two thumbs up for an extremely well executed event.
I arrived promptly Friday morning to get the booth set up before the floodgates opened. I had signed up early for the show, so had an excellent corner spot near the entrance of Rink 1 and directly in front of the passage to Rink 2. In reality, I don't think there was a bad booth position anywhere. Product vendors fared very well, attributed mostly to the timing of the show (less than a month before the fall hunting season in most parts of western Canada). There was the odd "tire-kicker" in the crowd, but by and large people were not just looking; they were buying.
Thankfully, my brother Bryce was able to help me out all weekend. Good thing, 'cause the place was a zoo for all but the last couple hours of each day. By "zoo", I'm not referring to the critters, though there were some spectacular taxidermy displays including the Masters Collection of world-class whitetails.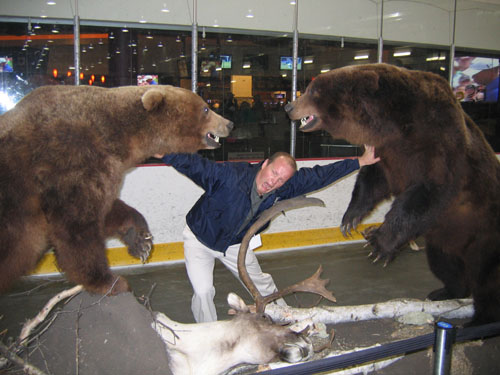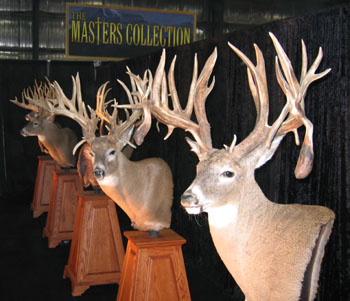 Another big attraction at the show was the guest speaker stage which provided a podium for a series of hunting celebrities who took turns sharing their knowledge and adventures with the crowd. Headlining the event were Ralph and Vicki Cianciarulo from the Archer's Choice. Other notables included Les Johnson (Predator Quest), Cody Robbins (Live 2 Hunt) and Jason Peterson (Hunting Canada and Beyond). Throw in a big beer tent, a quad course, cooking demonstrations, a couple 3D archery ranges and a next door resort/casino and you have one deluxe fun-filled weekend. Possibly the most fun you can have without a tag in your pocket!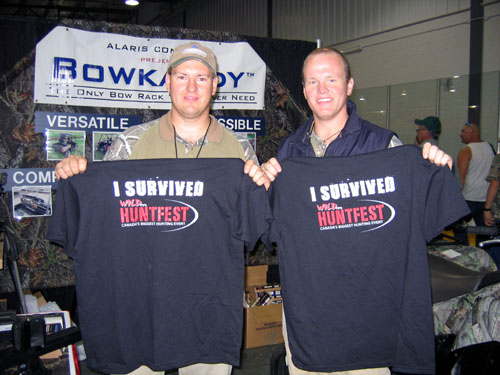 This trade event is not only good for the gear seekers and sellers, it's a win-win situation for the hunting industry as a whole. There is strength in numbers and indications are that the tradition of hunting has a very strong future. Final attendance figures reported by huntfest.ca were remarkable. Over 12,000 people took in some or all of the three-day show. With success like this, I share a hopeful sentiment that Wild TV extends the Huntfest hype to other Canadian venues in the coming years.
As a direct result of the show, Alaris Concepts is proud to announce the addition of two new Bowkaddy dealers in Alberta:
Now let's keep the facts straight. Huntfest is a no-nonsense trade show for the die-hard hunter. If you're looking to buy a speed boat or book a salmon fishing trip, go to a Boat & Sportsman's Show. But if you're all about arrows, ammo and ATV's, bows and binos, camo clothing, shot shells, taxidermy and TV celebrities, then I'll see YOU at Huntfest 2010!
---
"The Latest Installment" - Polaris Lock-N-Ride System
Many thanks to Mike Bax from Cranbrook, B.C. for sending these pictures to me. Due to the use of a rear cab window on his Polaris Ranger, Kaddy Bracket UTV could not be used to mount Bowkaddy. But once again, where there's a will, there's a way. Mike fabricated this aluminum bracket to support Bowkaddy from one of the "Lock-n-Ride" holes in the side of the Ranger box. He's looking forward to hitting the trail this fall with confidence that his sight hasn't shifted because it's no longer bouncing around the back of his Ranger. Good luck with your hunt, Mike!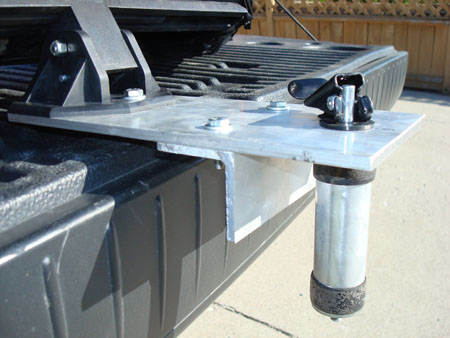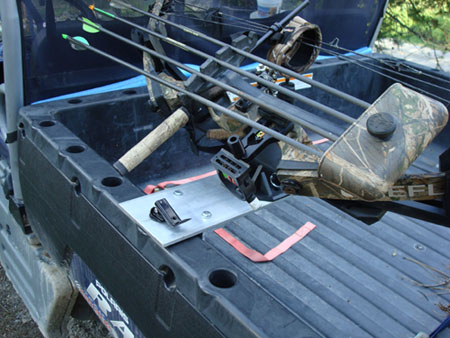 If you have any questions pertaining to an install such as this one, feel free to contact Alaris Concepts.
---