---
Hello, hunters and friends. I hope you got a chance to enjoy some hunting over the past few months. I've seen some decent animals and heard a few monster-buck stories from the area, so I've been reluctant to pull the trigger on a 2 or 3 year old. With the rut coming to a close, I'm finally finding time to get another issue out the door. So here's a quick newsletter to keep you in the loop on the happenings at Bowkaddy these days...
"The Latest Installment" - Jeep Tube Door
As in many smaller vehicles, Jeeps simply don't offer a lot of excess cargo space. A compound bow, let alone one in a bulky hard case, just doesn't work so well sometimes when your hunting vehicle is compact. Thanks to Greg Varela in Santa Clara, California for sending in these pictures of his Bowkaddy-equipped Jeep. Using the UTV Bracket and some creativity, he mounted the bracket to his driver side tube door then attached his Bowkaddy. Brilliant! Easy bow access and room to move inside. Good job, Greg. Thanks for "thinking outside the box"!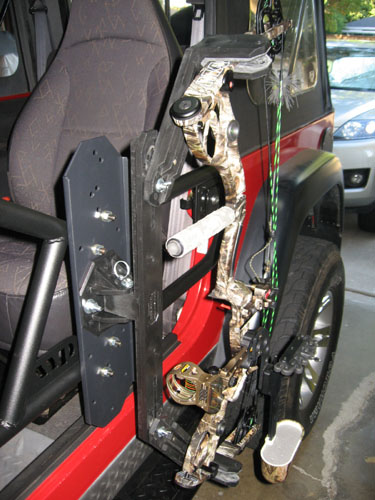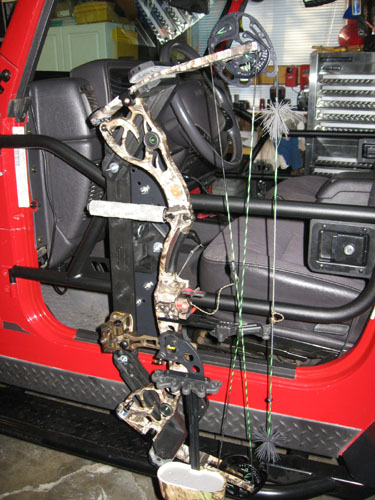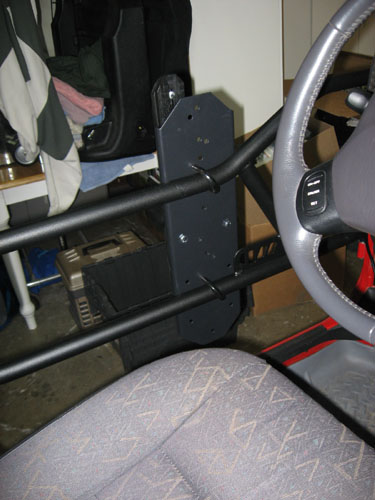 ---
Bowkaddy Blowout Sale Extended!
That's right. If you've had Bowkaddy on your wish list for a while, now is the time to take advantage of a rare price break as I try to clear out my seasonal inventory. I've decided to extend the sale until December 15 to allow my Bowkaddy Bulletin readers time to evaluate their Christmas shopping list and cash in on the savings. If you're a dealer, rest assured that the savings apply to wholesale orders as well. Contact Arliss at 780-842-7150 if you have any questions or would like to place a dealer order.
Standard delivery across western Canada and the lower 48 is 2-3 business days. Eastern Canada please allow 4-5 business days for delivery.
Please note that my US warehouse will be closing for the holidays beginning December 24th, through January 3rd. Canadian orders will continue to be shipped throughout the holidays.
---
If you're traveling through the border city, be sure to stop in and see Curtis and Sarah Byford at their new store, Exsile Outdoors. They've got it all...fishing and camping supplies, camo, archery and rifle gear, and a 25-yard indoor archery lane to try that new bow out before you close the deal! Located conveniently along Highway 17 across from Boundary Ford. Stop in today!
Exsile Outdoors
2501-50 Ave
Lloydminister, SK S9V 2A5
306-825-2538
---