Bowkaddy Meets Polaris Ranger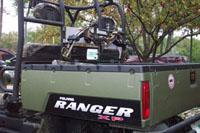 If you're a serious off-road enthusiast, then you are familiar with the new brands and styles of all-terrain vehicles hitting the trails these days. One of particular popularity is the Ranger, made by Polaris. There is even a website, www.prcforum.com, dedicated to owners and fans of Polaris Rangers. Similar machines include the Yamaha Rhino, Arctic Cat Prowler and John Deere Gator. These fearless vehicles have been well-received by people seeking more space and load capacity than conventional ATV's. Despite the obvious differences between the likes of Polaris Rangers and the likes of Honda Foremans or Yamaha Grizzlies, there is one blunt similarity - carrying a bow securely and practically on any of these outfits is, well...difficult. While a bow case is mandated in select states and provinces, many people outside of these jurisdictions welcome the possibility of care-free bow transportation. That is, to say, with all the safety and security of a case...without the case!
Below are some photos taken recently by a Pennsylvanian bowhunter who sought a way to transport his Hoyt on his Polaris Ranger without a bulky case monopolizing his precious load area. After some back and forth communication with Alaris Concepts, he decided that the best solution was...Bowkaddy!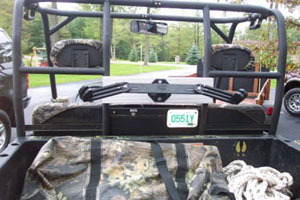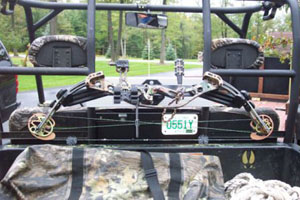 Fabricating a mounting plate from an aluminum step, the innovative outdoorsman was able to create a solid mounting surface for Bowkaddy. The plate was designed to span the distance between the two center rear roll bars. The vertical position had to provide adequate clearance between the Ranger box and the bow while retaining adequate rear visibility. Once in place, the base of Bowkaddy was fastened to the center of the aluminum plate with the hardware provided. Within minutes his Hoyt was resting securely in the capable grips of Bowkaddy.
As you can see, without a large case to carry along, there is much more room available for other important gear. Also, your bow is protected from damage and is immediately accessible from above the cargo area. No need to dig through a heap of equipment to reach your bow, wasting (sometimes) precious time. If "spot and stalk" is your game, boost your odds with Bowkaddy!