Special Christmas Pricing on Bowkaddy!
Now that hunting season is winding down for a lot of us, it's time to gear up for the Christmas holiday season. Yes, hunting and Christmas...the two best times of the year - back to back! I'll let you decide which is first and which is second!!! Have you completed your shopping for all the hard-to-buy-for's on your list? Maybe you're looking for a special something for yourself! Whatever the case may be, consider Bowkaddy and related accessories as you upgrade your equipment in preparation for next year's hunting adventures.
a Brand New Bow Rack !!!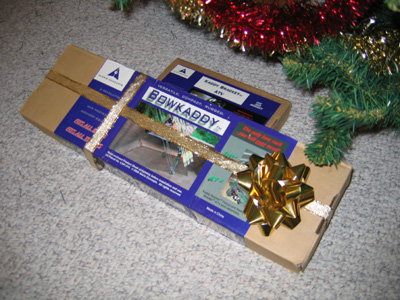 From now until the end of December, take advantage of reduced pricing on Bowkaddy!
Order online today for the special price of $79.99 USD, a savings of $10!!!
---
Trade Show Season is Just Around the Corner!
Alaris Concepts is gearing up for our second trade show season in 2007. Come and check out our Bowkaddy line of products and accessories at the following venues:
ATA Show (dealers only)
World Congress Center
Atlanta, GA, USA
January l8-20
Mother of All Shoots
Westerner Park
Red Deer, AB, Canada
March 2-4
Edmonton Boat and Sportsmen's Show
Northlands Agricom
Edmonton, AB, Canada
March 15-18
Consort Gun and Hobby Show
Consort, AB, Canada
April (TBA)
As 2006 winds down, Alaris Concepts would like to thank everyone who helped make this a successful year for Bowkaddy. Your website visits, comments, feedback and purchases are much appreciated. Thank you. Here's to an even better 2007!
---