ATA Show 2007 - Atlanta, Georgia!
The Alaris Concepts Perspective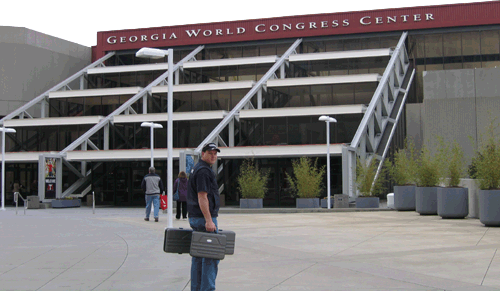 "Are we really here? I can't believe two country canucks actually found this place 2500 miles from home!"
First of all, I can say that it was very cool to be a part of something so significantly huge as the Archery Trade Association Trade Show. It was a bit overwhelming at first. Everywhere you looked...exhibitors, marketing campaigns, dealers, booths, media, and of course, everything you could imagine related to bowhunting.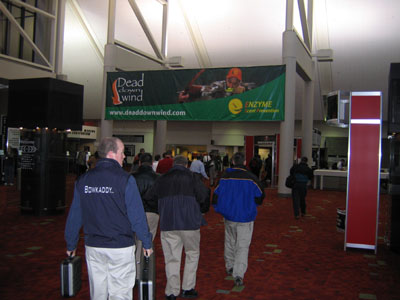 "Something tells me we didn't bring enough brochures!"
Here's the reported statistics on the event: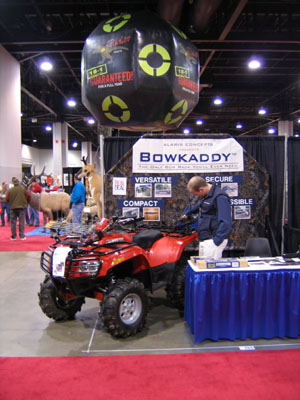 2582 registered dealers, buyers and distributors

3939 exhibitor staff

325 media members

145100 square feet of booth space
In other words, a whole schwack of bow hunters under one big roof! Go to the ATA web site for more details.
My brother, Bryce, and I got the Bowkaddy booth set up in good time on Wednesday morning. The shiny Arctic Cat was sitting in our assigned booth when we arrived, thanks to the guys at Muzzy Broadheads, one of whom brought his personal machine down for us to use during the show. Thanks, Steve!
Having put in a good half day's work, we decided to enjoy some of the local attractions, highlighted by a visit to the fantastic Georgia Aquarium (apparently the world's largest indoor fish tank!). Other extracurricular opportunities included tours through the World of Coca-Cola and CNN Headquarters as well as professional basketball and hockey games in the Georgia Dome. From our hotel, all of these were within a 10 minute walk away.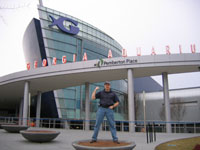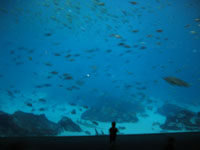 "Think they'll let us take fishin' rods in there?"
GWCC was already bustling with activity when we arrived Thursday morning (Day 1). It was a marketing marvel. Everywhere we looked...signs, banners, suspended 3D features and enough business cards floating around to cover a quarter section. Between Bowkaddy demos and discussions, we found a few minutes here and there to sneak around and get some digital pix. The lighting wasn't the greatest, but I got a few decent photos to post....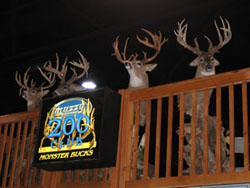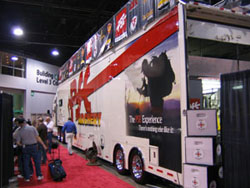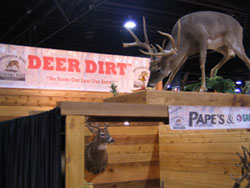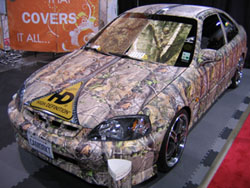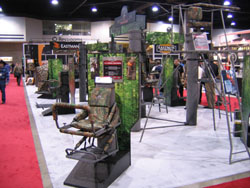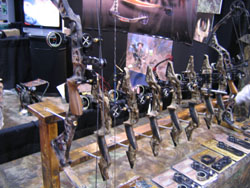 The ATA introduced a few new ideas for this year's show. The REAL DEAL and the New Featured Products areas attracted prospective buyers to check out the latest, greatest and best products/deals in the show. Bowkaddy appeared in both areas. With the show as big as it is, you have to take every advantage to bring people your way. Some buyers spend the entire 3 days walking the floor and still don't see everything.
Friday evening was highlighted by another new event organized and hosted by the ATA - a half-million dollar giveaway! Anybody with a $50 dollar raffle ticket was allowed into the Thomas Murphy Ballroom where fingers were crossed for nearly 2 hours as over 100 prizes were presented to lucky winners. Cash, bows, crossbows, dream hunts, even a brand new Camo Edition Chevy pickup were given away. Unfortunately, our tickets stayed in the drum. Better luck next year.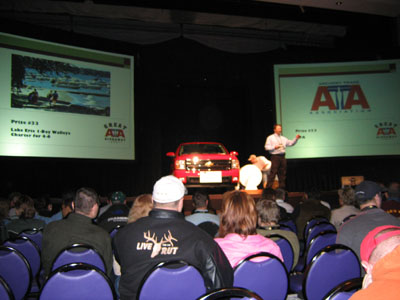 "How do we get a brand new pickup back across the border?"
Overall, the show was a success for Alaris Concepts. Besides the obvious interest in the ATV and pickup applications, there was a surprising amount of discussion on its use with the new utility off-road vehicles (Polaris Rangers, Yamaha Rhinos and the like). Several orders were placed during the show, and Arkansas Outdoor Dealer Supply requested to become the Bowkaddy sales reps for four states including Texas, Louisiana, Oklahoma and, of course, Arkansas. The name of the game in this business (or any business, for that matter) is exposure, and we certainly achieved that. If Bowkaddy wasn't a word in the dictionary of many bowhunters before, it is now.
Including the new dealers gained at the show, Bowkaddy is now available in 18 locations in 4 provinces and 8 stores in the following 7 states:
Next year, the show will be returning to Indianapolis, Indiana, the hunting heart of America. It promises to be even bigger and even better...and Bowkaddy will be there!
---