In This Issue...
Bowkaddy Bear Hunt 2007: The Quest for a Color Phase
The Bowkaddy Kronicles Unveiled
Kool Websites
Dealer Update
---
Bowkaddy Bear Hunt 2007: The Quest for a Color Phase
I set two main objectives for our spring bear hunt this year - to get some good video footage and to make a clean shot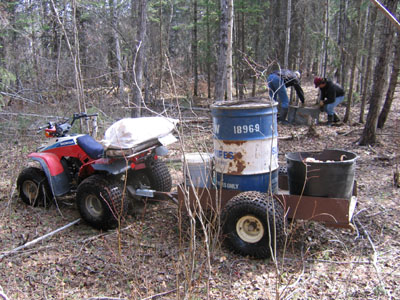 on a thick-coated cinnamon. I know there's one in the area because I saw him last spring.

On April 29, I drove up with my long time hunting buddies, Carman and Mark, F-150 full 'o bait and flat deck full o' quads and trailer. After two hours of pavement, we hit the gravel and finally our destination. The chorus of frogs greeted us as we opened the doors and stretched in the warmth of a beautiful spring day. "Good to be back," I said, "shall we git 'r done?" The area was drier than we expected, and by 2:30 pm, we had 3 baits loaded for bear.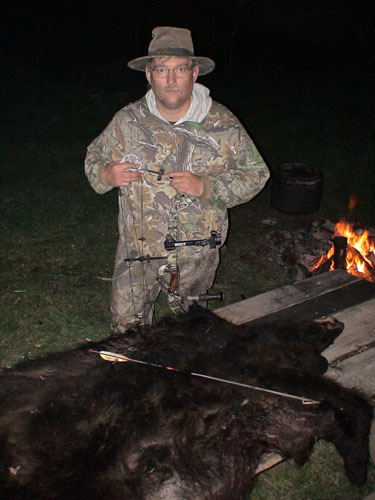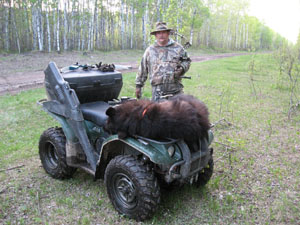 The calendar flipped to May and finally on the long weekend I got an opportunity to hunt with Jon and Peter, some buddies from work. Nothing had on Night #1, but Peter managed to double lung a decent black on Night #2. Unfortunately, all the action unfolded at the stand without the video camera! By the time I arrived back at camp, it was already skinned and prepped for the taxidermist! We measured it out at 5'4". The bear was one of three that they had seen that night, including a nice cinnamon! There just might be hope for a colour phase yet!

I had finished a less eventful evening sit with Marko at a different bait. No bears came in for us, but I got some humorous footage of a curious squirrel...
Less than a week later, my brother, Bryce and I left Wainwright shortly after lunch and arrived at camp in time to tune up the bows and head to the stand for an evening sit. We had one 3 year old black come in. I had the camera rolling, but Bryce opted to pass on this night. I didn't blame him...we had lots of time left. Carman and Mark sat a different bait with about the same amount of success. Saw bear, but no shots taken.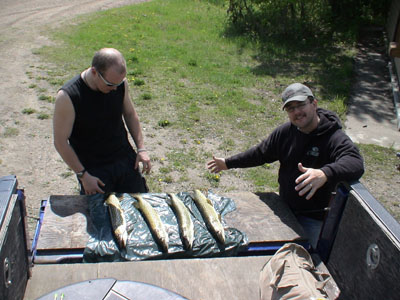 Day#2 of this trip found us in the boat kickin' jackfish butt all over the lake. We managed to catch four keeper pike for a midnight supper. The sit Friday evening was a bit slower. Bryce and I sat the same bait but didn't see any bear, let alone a colour phase.

Day #3 we changed things up a bit. Mark and I went out at 11:00 am to sit for a few hours on the bait where Peter had taken his black one week prior. We had a very big sow and 2 yearlings come in to dine for about 10 minutes right underneath our stand. That was a little unnerving. I think next year we'll reposition the bait so the stand is not right above the dining room. They eventually took off, and so did we. Bite to eat and back to the original stand with Bryce for the evening vigil. I am an eternal optimist, and with 6 guys watching all 3 baits, I figured there would be a few stories to tell around the campfire when we returned.

Bryce and I were visited by 2 black 3-yr olds. I knew Bryce wanted to take one of them, so I kept the camera rolling as he drew and let down TWICE on the better-coated black as they walked out of the bait, not stopping for a release. With darkness closing in and my batteries winding down fast, it didn't look good. But just as we were preparing to climb out of the stands, we heard one of the blacks coming back in. This was it. I waited until I saw Bryce draw before I flipped the switch on the camera - 1 minute of battery left! The arrow found its mark behind the right shoulder and the bear took off - and the red record light was still on!.....Sweet!!! That'll make the Kronicles, I thought to myself (see Last Chance Black Bear). It was too dark to track, so we picked up the bent and bloodied arrow and returned to camp with our story.

Surprisingly, Albey and Dalan had not yet returned from their bait (now 11:00 pm). Mark and Carman saw nothing at their bait so were anxious to get all the details from our sit. We were teasing them with a few sketchy details when a cell phone rang. It was Dalan, calling from the stand. "Can you come and get us?" he asked. "We can't see to get out of the stand and there's a sow and cubs at the bait that won't leave." That was a first. Twenty minutes later, Bryce and I were walking into their bait site, flashlights and rifle in tow. We got everyone back to the safety of the campfire and the stories unfolded. They had seen 6 bear all together including one small black, a sow with twin cubs, a Pope and Young black bruin which never came in for a shot AND ... ... ... a cinnamon! With only one day to hunt, Dalan wasted no time in passing an arrow through the coloured bear, but with all the other bear at the site, they were unable to track it down.

We woke up Sunday morning with camp to pack up, a boat to load, 2 bear to track and some video to shoot. Fortunately, we recovered both bear, putting a superb finish on our 2007 Bowkaddy Bear Hunt and Quest for a Colour Phase. Can't wait until next year! Click to hear Dalan tell the story behind his cinnamon.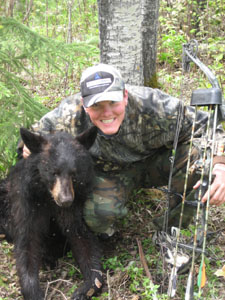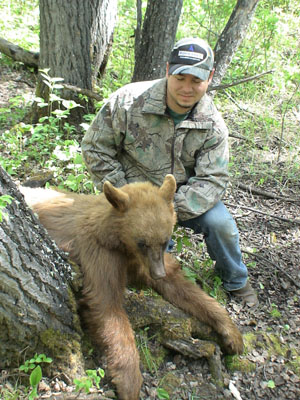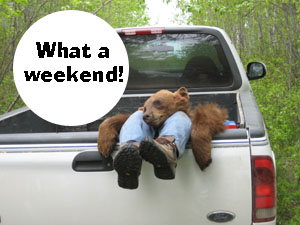 ---
The Bowkaddy Kronicles - Unveiled!


If you clicked on any of the video links in the story above, you will already know about the "Bowkaddy Kronicles". It used to be called Bonus Videos, but because of all the web traffic it has generated, I decided to give it a facelift. I totally reformatted the page to give it a new look and better functionality. The latter I accomplished mostly by changing the video format from Windows Media to Macromedia Flash. Because flash files are much smaller than conventional video file formats, I was able to increase the screen size and resolution without sacrificing precious download time. And if you are using dial-up, well...I've created a low-res version of each video and put a link on the main Kronicles page so you won't fall asleep waiting for the larger-size video file to load.
Check out the Bowkaddy Kronicles
Keep an eye on the Kronicles as I plan to post new video clips as often as possible! Our next big adventure will be pronghorn antelope hunting on the plains of southeastern Alberta in mid-September!
---
It's nice from time to time to find websites that offer more than a collage of banner ads and less-than-to-the-point information. If you're an outdoors nut like me who regular surfs the web in search of new and interesting sites, then you may want to check these out. Cool stuff - especially the "page-flip" technology built into the online GCS magazine. You'll have to enter your email address to view it, but go ahead...you won't be disappointed.
The Great Canadian Sportsman - online hunting and fishing magazine (totally free!)
Xtreme Outdoor Network - streaming hunting and fishing network (again - totally free for viewers!)
---
Alaris Concepts welcomes the following companies to its expanding list of Bowkaddy retailers. If you're in the area, stop and check them out!...
The Bow Shop
631 Colby Dr
Waterloo, ON N2V 1B4
519-746-8139
www.bow-shop.com
Ramakko's
125 Loach's Rd
Sudbury, ON P3E 2P8
705-522-8889
www.ramakkos.com
If you'd like to see Bowkaddy in your local archery shop, stop by and let them know. I would appreciate it, and so would they.
---